Cytotoxic and Antitumoral Effects of Bikaverin from Gibberella fujikuroi on L5178Y Lymphoma Murine Model
Gabriela Hinojosa Ventura

Universidad de Guadalajara

Ana María Puebla Pérez

Universidad de Guadalajara

Martha Patricia Gallegos Arreola

Universidad Michoacana de San Nicolás de Hidalgo

Ma del Carmen Chávez Parga

Universidad Michoacana de San Nicolás de Hidalgo

Antonio Romero Estrada

Universidad Autónoma del Estado de Morelos

Jorge Iván Delgado Saucedo

Universidad de Guadalajara
Keywords:
Gibberella fujikuroi, bikaverin, polyketide, cytotoxicity and antitumoral effect.
Abstract
In this work, bikaverin was isolated from the mycelium of Gibberella fujikuroi and characterized using 1D (1H and 13C) and 2D (HSQC and HMBC) NMR spectroscopy. Its cytotoxic effect on L5178Y lymphoma cells and antitumor effect on BALB/c mice inoculated with L5178Y cells were evaluated. According to the results, bikaverin showed cytotoxic effect against L5178Y lymphoma cells with an IC50 value of 0.23 μg/mL.The tumor evolution, with and without treatment, was observed in the in vivo study; the group without treatment showed 1,280±128 x 105 cells/mL in ascites volume, and the groups treated with bikaverin at the dose of 1.73 mg/kg/day by intraperitoneal (i.p.) and oral administration, decreased significantly the cell density, and showed 391.5±237 x 105 cells/mL and 580±208 x 105 cells/mL, respectively. The results confirm the cytotoxic effect of bikaverin on cancer cell lines and contribute to show the potential of bikaverin as antitumoral compound in BALB/c mice inoculated with L5178Y lymphoma cells.
References
Bray, F.; Ferlay, J.; Soerjomataram, I.; Siegel, R. L.; Torre, L. A.; Jemal, A. CA: Cancer J. Clin. 2018, 68, 394-424.
Roodhart, J. M. L.; Daenen, L. G. M.; Stigter, E. C. A; Prins, H. J.; Gerrits, J.; Houthuijzen, J. M.; Gerritsen, M. G.; Schipper, H. S.; Backer, M. J. G.; van Amersfoort, M.; Vermaat, J. S. P.; Moerer, P.; Ishihara, K.; Kalkhoven, E.; Beijnen, J. H.; Derksen, P. W. B.; Medema, R. H.; Martens, A. C.; Brenkman, A. B.; Voest, E. E. Cancer Cell 2011, 20, 370–383.
Atmaca, H.; Çamli, C.; Sert, S. Celal Bayar University Journal of Science 2018, 14, 35-40.
Newman, D. J.; Cragg, G. M. J. Nat. Prod. 2016, 79, 629–661.
Espinoza, C.; Couttolenc, A.; Fernández, J. J.; Norte, M.; Plata, G. B.; Padrón, J. M.; Shnyreva, A.; Trigos, A. J. Mex. Chem. Soc. 2016, 60, 79-82.
Bugni, T. S.; Ireland, C. M. Nat. Prod. Rep. 2004, 21, 143-163.
Kharwar, R. N.; Mishra, A.; Gond, S. K.; Stierle, A.; Stierle, D. Nat. Prod. Rep. 2011, 28, 1208-1228.
Limón, M. C.; Rodríguez-Ortiz, R.; Avalos, J. Appl. Microbiol. Biotechnol. 2010, 87, 21-29.
Schumacher, J.; Gautier, A.; Morgant, G.; Studt, L.; Ducrot, P.-H.; Le Pêcheur, P.; Azeddine, S.; Fillinger, S.; Leroux, P.; Tudzynski, B.; Viaud, M. PloS One. 2013, 8, e53729-e53742.
Balan, J.; Fuska, J.; Kuhr, I.; Kuhrová, V. Folia Microbiol. 1969, 15, 479–484.
Son, S. W.; Kim, H. Y.; Choi, G. J.; Lim, H. K.; Jang, K. S.; Lee, S. O.; Lee, S.; Sung, N. D.; Kim, J.-C. J. Appl. Microbiol. 2008, 104, 692–698.
Kwon, H. R.; Son, S. W.; Han, H. R.; Choi, G. J.; Jang, K. S.; Choi, Y. H.; Lee, S.; Sung, N. D.; Kim, J.-C. Plant Pathol. J. 2007, 23, 318–321.
Nirmaladevi, D.; Venkataramana, M.; Chandranayaka, S.; Ramesha, A; Jameel, N. M.; Srinivas, C. Cell. Mol. Neurobiol. 2014, 34, 973–985.
Henderson, J. F.; Battell, M. L.; Zombor, G.; Fuska, J.; Nemec, P. Biochem. Pharmacol. 1977, 26, 1973–1977.
Kovac, L.; Bohmerova, E.; Fuska, J. J. Antibiot. 1978, 31, 616–620.
Fuska, J.; Proksa, B.; Fusková, A. Neoplasma. 1975, 22, 335–338.
Zhan, J.; Burns, A. M.; Liu, M. X.; Faeth, S. H.; Gunatilaka, A. A. L. J. Nat. Prod. 2007, 70, 227–232.
Chavez-Parga, M. C.; Hinojosa-Ventura, G.; Maya-Yescas, R.; Gonzalez-Hernandez, J. C. Int. Rev. Chem. Eng. 2014, 6, 100–107.
Navarro-Salcedo, M. H.; Delgado-Saucedo, J. I.; Siordia-Sánchez, V. H.; González-Ortiz, L. J.; Castillo-Herrera, G. A.; Puebla-Pérez, A. M. J. Med. Food. 2017, 20, 1076-1082.
http://tox.charite.de/tox/index.php?site=compound_search_similarity
(accessed on November 16, 2017).
Banerjee, P.; Erehman, J.; Gohlke, B.-O.; Wilhelm, T.; Preissner, R.; Dunkel, M. Nucleic Acids Res. 2015, 43, D935–D939.
Secretaría de Agricultura Ganadería, Desarrollo Rural, Pesca y Alimentación: Norma Oficial Mexicana NOM-062-ZOO-1999, Especificaciones técnicas para la producción, cuidado y uso de animales de laboratorio, Edited by Diario Oficial de la Federación. 2001.
Kjaer, D.; Kjaer, A.; Pedersen, C.; Bu´Lock, J. D.; Smith, J. R. J. Chem. Soc. 1971, 1, 2792–2797.
Mcinnes, A. G.; Walter, J. A.; Smith, D. G.; Wright, J. L. C.; Vining, L. C. J. Antibiot. 1976, 29, 1050–1057.
Suzuki, T.; Kitagawa, A.; Kawai, K.; Hamasaki, T. Micotoxin Res. 1998, 14, 19–27.
Haidar, S; Bouaziz, Z.; Marminon, C.; Laitinen, T.; Poso, A.; Le Borgne, M.; Jose, J. Pharmaceuticals. 2017, 10, 1–13.
Norred, W. P.; Plattner, R. D.; Vesonder, R. F.; Bacon, C. W.; Voss, K. A. Food Chem. Toxicol. 1992, 30, 233-237.
Springler, A.; Vrubel, G.-J.; Mayer, E.; Schatzmayr, G.; Novak, B. Toxins 2016, 8, 345-365.
Jacobo-Herrera, N. J.; Jacobo-Herrera, F. E.; Zentella-Dehesa, A.; Andrade-Cetto, A.; Heinrich, M.; Pérez-Plasencia, C. J. Ethnopharmacol. 2016, 179, 391–402.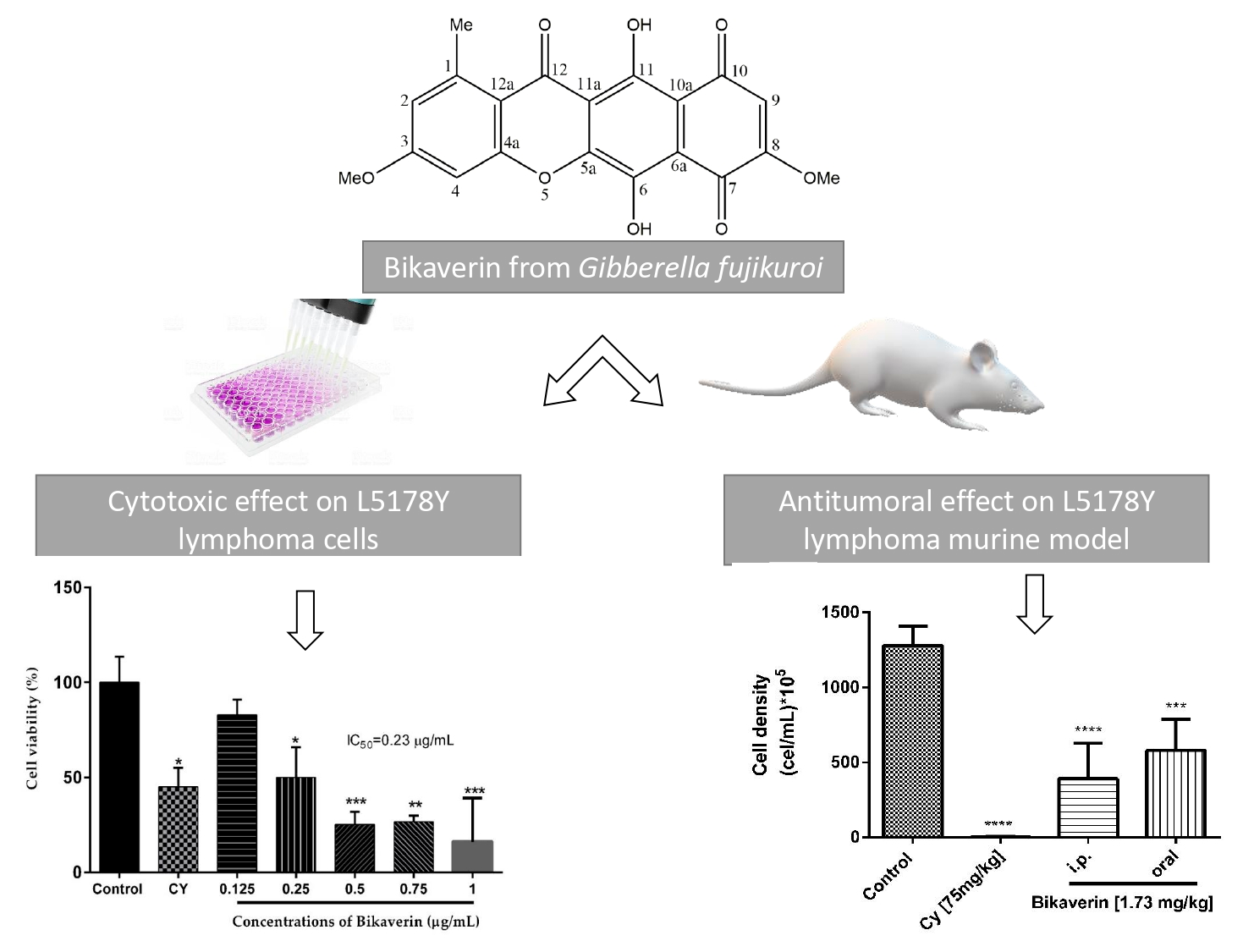 Copyright (c) 2019 Gabriela Hinojosa Ventura, Ana María Puebla Pérez, Martha Patricia Gallegos Arreola, Ma del Carmen Chávez Parga, Antonio Romero Estrada, Jorge Iván Delgado Saucedo
This work is licensed under a Creative Commons Attribution-NonCommercial 4.0 International License.
Authors who publish with this journal agree to the following terms:
Authors retain copyright and grant the journal right of first publication with the work simultaneously licensed under a Creative Commons Attribution License that allows others to share the work with an acknowledgement of the work's authorship and initial publication in this journal.
Authors are able to enter into separate, additional contractual arrangements for the non-exclusive distribution of the journal's published version of the work (e.g., post it to an institutional repository or publish it in a book), with an acknowledgement of its initial publication in this journal.