GC/MS analysis and bioactive properties of extracts obtained from Clusia minor L. leaves
Keywords:
Clusia minor L., sterols, triterpenoids, antioxidant, anti-inflammatory, cytotoxicity
Abstract
Clusia minor L. is traditionally used to treat many disorders that including pain and inflammation such as sores and warts. Four extracts from the leaves of plant were prepared: hexane (CMH-A), ethyl acetate (CMH-B), methanol (CMH-C) and ethanol (CMH-E) and the pharmacological (antioxidant and anti-inflammatory properties) and toxicity effects were examined. Previously, the main constituents from CMH-A extract was revealed. Here, we present the GC/MS analysis of CMH-B and CMH-C. Thirty three compounds were identified in the CMH-B extract and twenty seven compounds in the CMH-C. The presence of D-α-tocopherol and lupeol was relevant in both extracts. The only sterols identified were sitosterol and stigmasterol. All of them showed effective radical scavenger properties in the 1,1-diphenyl-2-picryl-hydrazyl (DPPH) assay, being CMH-E extract the most promissory (IC50 = 10.25 µg/mL). CMH-A, C and E extracts, administered topically (0.5–4 mg per ear), significant reduced ear edema induced by croton oil at 4 mg per ear, meanwhile CMH-B that was be able to significant reduce the inflammation at the dose of 2 mg per ear. We evaluated also the cytotoxic activity of the extracts against kidney cells (BHK), colon cancer (CT26), endothelial cancer cells (EA.hy926) and breast cancer (4T1). CMH-B extract showed the most cytotoxicity effect, with IC50 values in the range of 32.01-203.5 µg/mL. In addition, no oral acute toxicity after mice exposure to Clusia minor L. extracts was observed. The results suggest Clusia minor L. may be a good potential source of new bioactive agents for developing medicinal agents.
Downloads
Download data is not yet available.
References
Nogueira P.C.; Bittrich V.; Shepherd G.J.; Lopes A.V.; Marsaioli A.V. Phytochemistry 2001, 56, 443-452.
Peraza-Sánchez S.R.; Pacheco F.; Noh-Chimal A. Fitoterapia 2007, 78, 315-318.
Lastres M.; Ruiz-Zapata T.; Castro M.; Torrecilla P.; Lapp M.; Hernández-Chong L.; Muñoz D. Pittieria. 2015, 39, 59-89.
Compagnone R.S.; Suarez A.C.; Leitão S.G.; Delle Monache F. Engl. Braz. J. Pharmacog. 2008, 18, 6-10.
Cuesta-Rubio O.; Piccinelli A.L.; Rastrelli L. Stud. Nat. Prod. Chem. 2005, 32, 671–720.
Popolo A.L.; Piccinelli S.M.; Rosalinda S.; Cuesta Rubio O.; Luca R.; Pinto A. Can. J. Physiol. Pharmacol. 2011, 89, 50-57.
Teixeira J.S.R.; Cruz F.G. Tetrahedron Lett. 2005, 46, 2813–2816.
Bailón-Moscoso N.; Romero-Benavides J.C.; Sordo M.; Villacís J.; Silva R.; Celi L.; Martínez-Vázquez M.; Ostrosky-Wegmanaet P. Braz. J. Pharmacog. 2016, 26, 44-49.
Ferreira R. O.; Carvalho Junior A. R.; Riger C.J.; Castro R.N.; Silva T. M. S.; Carvalho M. G. Quim. Nova 39, 2016, 1093-1097.
Ribeiro P.R.; Ferraz C.G.; Guedes M.L.S.; Martins D.; Cruz F.G. Fitoterapia 2011, 82, 1237–1240.
Nunes J.S.F.; da Silva J.P.; Conserva L.M.; Barreto E. Chin. J. Nat. Med. 2013, 11, 385?390.
Nagem T.J.; Mesquita A.A.L.; Silva R. Fitoterapia 1993, 64, 380.
Henry G.E.; Jacobs H.; Carrington C.M.S.; McLean S.; Reynolds W. Tetrahedron Lett. 1999, 55, 1581-1596.
Ito C.; Itoigawa M.; Miyamoto Y.; Onoda S.; Rao K.; Mukainaka T.; Tozuda H.; Nishino H.; Furukawa H. J. Nat. Prod. 2003, 66, 206-209.
Mangas R.; Bello A.; Cuesta-Rubio O.; Piccinelli A.L.; Rastrelli L. Lat. Am. J. Pharm. 2008, 27, 762-775.
Mangas R.; Montes de Oca R.; Bello A.; Vázquez A.N. Lat. Am. J. Pharm. 2008, 27, 747-751.
Tabart J. Food Chem. 2009, 133, 1226-1233.
Mosmann T. J. Immunol. Methods 1983, 65, 55-63.
Griswold D.E.; Martin L.D.; Badger A.M.; Breton J.; Chabot-Fletcher M. Inflamm. Res. 1998, 47, 56-61.
OECD Guideline for the testing of chemicals, No. 423. Acute oral toxicity acute toxic class method. Paris, France: Organization for Economic Cooperation and Development. 2000.
Neerman M.F. Inter. J. Aromather. 2003, 13, 114-120.
Mathur S.B. Phytochemistry. 1972, 11, 1513-1514.
Hasbun-Pacheco C.; Calvo-Pineda M.A.; Barrios-Chica M.; Arguedas-Campos E.; Calvo A.; Jiménez R.; Poveda-Alvarez L.J. Ing. Cienc. Química. 1985, 9, 96-97.
Farfan M.; Martinez E.; Delle Monache F. Rev. Colomb. Quim 1998, 27, 87-89.
Bouic, P.J. Curr. Opin. Clin. Nutr. Metab. Care. 2001, 4, 471-475.
Bouic P.J.; Lamprecht J.H. Altern. Med. Rev. 1999, 4, 170-177.
Loizou S.; Lekakis I.; Chrousos G.P.; Moutsatsou P. Mol. Nutr. Food Res. 2010, 54, 551-558.
Cao G.; Sofic, E.; Prior R.L. Free Radic. Biol. Med. 1997, 22, 749-760.
Chem Z.Y.; Cham P.T.; Ho, K.Y.; Fung K.P.; Wang J. Chem. Phys. Lipids. 1996, 79, 157-163.
Heim K.; Tagliaferro A.; Bobilya D.J. J. Nutr. Biochem. 2002, 13, 572-584.
Se-Youm A.; Asres K.; El-Fiky F. Phytochemistry 2006, 67, 2058-2070.
Van A.S.; Van D.; Tromp M.; Griffioen D.; Van B.; Van D.V.; Bast A. Free Radic. Biol. Med. 1996, 20, 331-342.
Singh K.; Bhori M.; Marar T. Hum. Exp. Toxicol. 2015, 34, 380-389.
Hamdan D.; El-Readi M.Z.; Tahrani A.; Herrmann F.; Kaufmann D.; Farrag N.; El-Shazly A.; Wink M. Z. Naturforsch C. 2011, 66, 385.
Kaur N.; Chaudhary J.; Jain A.; Kishore L. Int. J. Pharm. Sci. Res. 2011, 2, 2259-2265.
Baskar A.A.; Al Numair K.S.; Paulraj M.G.; Alsaif M.A.; Al Muamar M.; Ignacimuthu, S.; J Med. Food. 2012, 15, 335-343.
Vivancos M.; Moreno J.J. Free Radic. Biol. Med. 2005, 39, 91-97.
Gupta A.; Sharma A.K.; Dobhal M.P.; Sharma M.C.; Gupta R.S J Diabetes. 2011, 3, 29-37.
Raman B.V.; La S.; Saradhi M.P.; Rao B.N.; Khrisna A.N.V.; Sudhakar M.; Radhakrishnan T. Asian J. Pharm. Clin. Res. 2012, 5, 99-106.
Kuete V.; Krusche B.; Youns M.; Voukeng I.; Fankam A.G.; Tankeo S.; Lacmata S.; Effert T. J. Ethnopharmacol. 2011, 134, 803–812.
Gallo M.B.C.; Sarachine M.J. Int. J. Biomed. Pharmaceut. Sci. 2009, 3, 46-66.
Hernández L.; Palazon J.; Navarro-Ocaña A. in: Phytochemicals-A Global Perspective of Their Role in Nutrition and Health. Dr. Venketeshwer, R. Ed., InTech, Rijeka, Croatia, 2012, 487-510.
Ju Y.H.; Clausen L.M.; Allred K.F.; Almada A.L.; Helferich W.G. J. Nutr. 2004, 134, 1145-1151.
Ovesna Z.; Vachalkova A.; Horvathova K. Neoplasma 2004, 51, 407-414.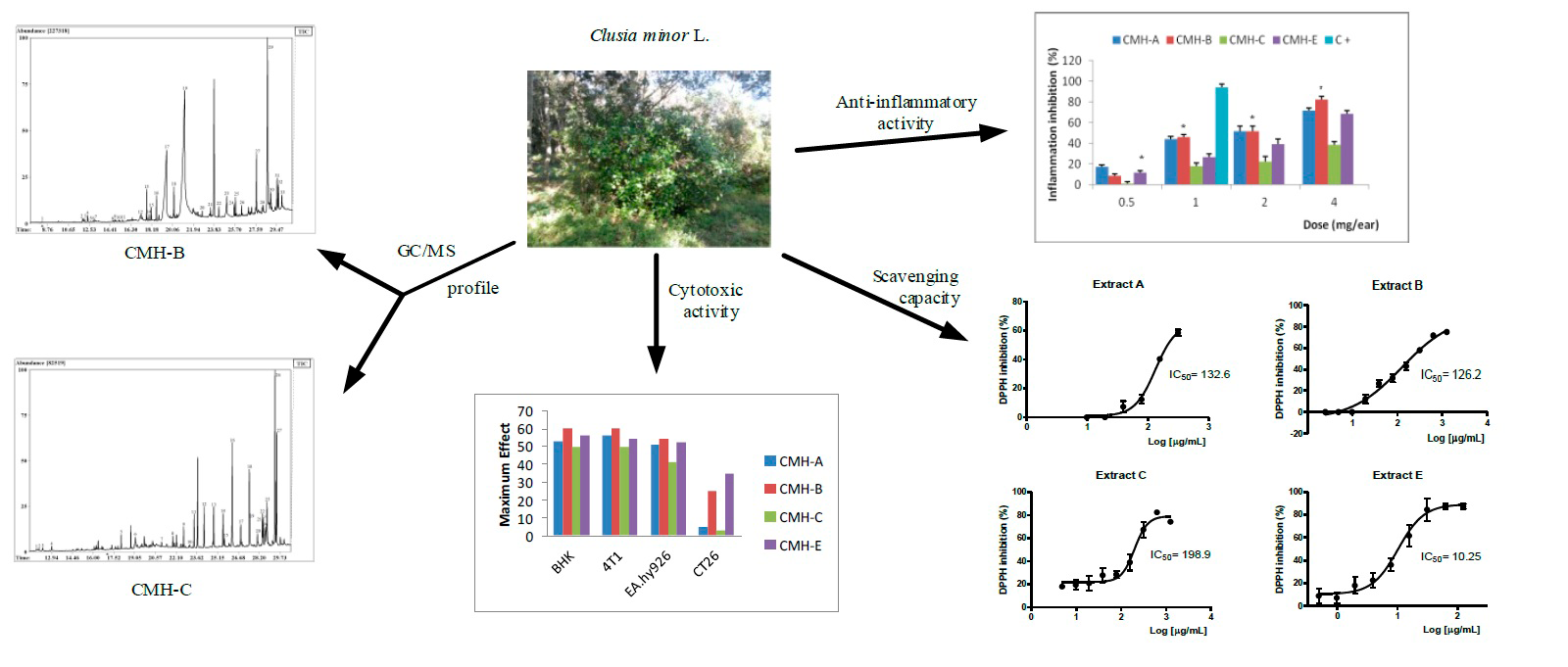 Downloads
License
Authors who publish with this journal agree to the following terms:
Authors retain copyright and grant the journal right of first publication with the work simultaneously licensed under a Creative Commons Attribution License that allows others to share the work with an acknowledgement of the work's authorship and initial publication in this journal.
Authors are able to enter into separate, additional contractual arrangements for the non-exclusive distribution of the journal's published version of the work (e.g., post it to an institutional repository or publish it in a book), with an acknowledgement of its initial publication in this journal.