Synthesis of novel pyridine-connected piperidine and 2H-thiopyran derivatives and their larvicidal, nematicidal, and antimicrobial activities
Keywords:
Larvicidal activity, Nematicidal activity, Antimicrobial activity, Piperidine, 2H-thiopyran derivatives
Abstract
A series of novelpyridine-connected piperidine derivatives (2a-g) and pyridine-connected 2H-thiopyran derivatives (4a-g) were synthesized and screened for larvicidal, nematicidal, and antimicrobial activities. Compound 4e exhibited larvicidal activity against second instar larvae with an LD50 value of 0.8μg/mL. In addition, 4e exhibited high nematicidal activity, with an LD50 value of 3.2μg/mL.Compounds 2e (MIC: 4 μg/mL) and 2d (MIC: 4 μg/mL) exhibited high antibacterial activity against Klebsiella pneumoniae and Escherichia coli, respectively. Compounds 4b (MIC: 0.25 μg/mL) and 4f (MIC: 2 μg/mL) showed high antifungal activity against Candida albicans and Microsporum audouinii, respectively. Therefore, it can be suggested that compounds 2e, 2d, 4e, 4b, and 4f may be useful as lead molecules for the development of new classes ofdrugs with larvicidal,nematicidal,and antimicrobial activities.
Downloads
Download data is not yet available.
References
Nagano, R.; Adachi, Y.; Imamura, H.; Yamada, K.; Hashizume,
T.; Morishima, H. Antimicrob. Agents Chemother. 1999, 43,
-2503.
Chang Yong, H.; Young Kwan, K.; Jay Hyok, C.; Se Ho, K.;
Hoon, C.; Do Hyun, N. J. Med. Chem.1997, 40, 3584-3593.
Stefania, M.; Maddalena, R.; Piero, V.; Paolo, D.R. Farmaco
, 54, 411-415.
Kai, L.; Ming-Liang, L.; Lian-Shun, F.; Lan-Ying, S.; Ye-Xin, S.;
Zeng-Quan, W. Eur. J. Med. Chem.2012, 47, 619-625.
Park, I.K.;Lee, S.G.; Shin, S.C.;Park, J.D.; Ahin, Y.J. J.
Agric.Food. Chem. 2002, 50, 1866-1870.
Perumal, R.V.; Adiraj, M.A.; Shanmugagpandiyan, P. Indian
Drugs 2001,381, 156-159.
Hagenbach, R.E.; Gysin, H. Experentia 1952,8, 184-188.
Ilenna, B.; Dobre, V.; Nicluescu-duvaz, I. J. Prakt. Chem.1985,
, 667-674
Ramalingan,C.; Balasubramanian Kabilan, S.; Vasudevan, M.
Med. Chem. Res. 2003, 12, 41-55.
Schneller, S. Adv. Heterocycl. Chem.1975, 18, 59-97.
Brown, M.J.; Carter, P.S.; Fenwick, A.E.; Fosberry, A.P.;
Hamprecht, D.W.; Hibbs, M.J.; Jarvest, R.L,; Mensah, L.;
Milner,P.H.; O'Hanlon, P.J.; Pope, A.J.; Richardson Casy, A.;
Coates,J.; Rostron,C. J.Pharm. Pharmaco.1976, 28, 106-110
Quaglia, W.; Pigini, M.; Piergentili, A.; Giannella, M.; Gentili,
F.; Marucci, G.; Carrieri, A.; Carotti, A.; Poggesi, E.; Leonardi,
A.; Melchiorre, C. J. Med. Chem.2002, 45, 1633–1643
Van Vliet, L.A.; Rodenhuis, N.; Dijkstra, D.; Wikström, H.;
Pugsley, T.A.; Serpa, K.A.; Meltzer, L.T.; Heffner, T.G.; Wise,
L.D.; Lajiness, M.E.; Huff, R.M.; Svensson, K.; Sundell, S.;
Lundmark, M.J. Med. Chem.2000, 43, 2871–2882.
Rogier, J. D.J.; Carter, J.S.; Talley, J.J. Patent CA
A1 2001
Yang, Y.C.; Lee, S.G.; Lee, H.K.; Kim, M.K.; Lee, S.H.; Lee,
H.S. J. Agric. Food.Chem.2002, 50, 3765–37
Sun, R.; Li, Y.; Lv, M.; Xiong, L.;Wang, Q. Bioorg. Med.
Chem. Lett.2010, 20,4693-4699.
Talontsi, F.M.; Matasyoh, J.C.; Ngoumfo, R.M.; Chepkorir, R.
Pest Biochem. Physiol. 2011, 99, 82-85.
Wing, K.D.Science 1988, 241, 467-469
Baliah, V.;Noller, C.R. J. Am. Chem. Soc.1948, 70, 3853-3858
Manilal, A.; Sujith, S.; Kiran, G.S.; Selvin, J.; Shakir, C.;
Gandhimathi, R. J. Mar. Sci.Technol. 2009, 17, 67-73.
Sampath, N.; Ponnuswamy, M.N.; Nethaji, M. Cryst. Res.
Technol. 2006, 41, 192-197.
Bauer, A.W.; Kirby, W.M.;Sherris, J.C.;Turck, M.Am. J. Clin.
Pathol. 1966, 39, 493-496.
Petersdorf, R.G.;Sherris, J.C. Am. J. Med. 1965, 39, 766-779.
Collins, A.H.; Gillespie, S.H., in:Microbiological Methods
(second ed.), Butterworth, London, Medical Microbiology-
IllustratedButterworth-Heinemann, London, 1994, 234-237.
Varma, R.S. Antifungal agents:past, present, and
futureprospects, National Academy of Chemistry and Biology,
Lucknow, India. 1998.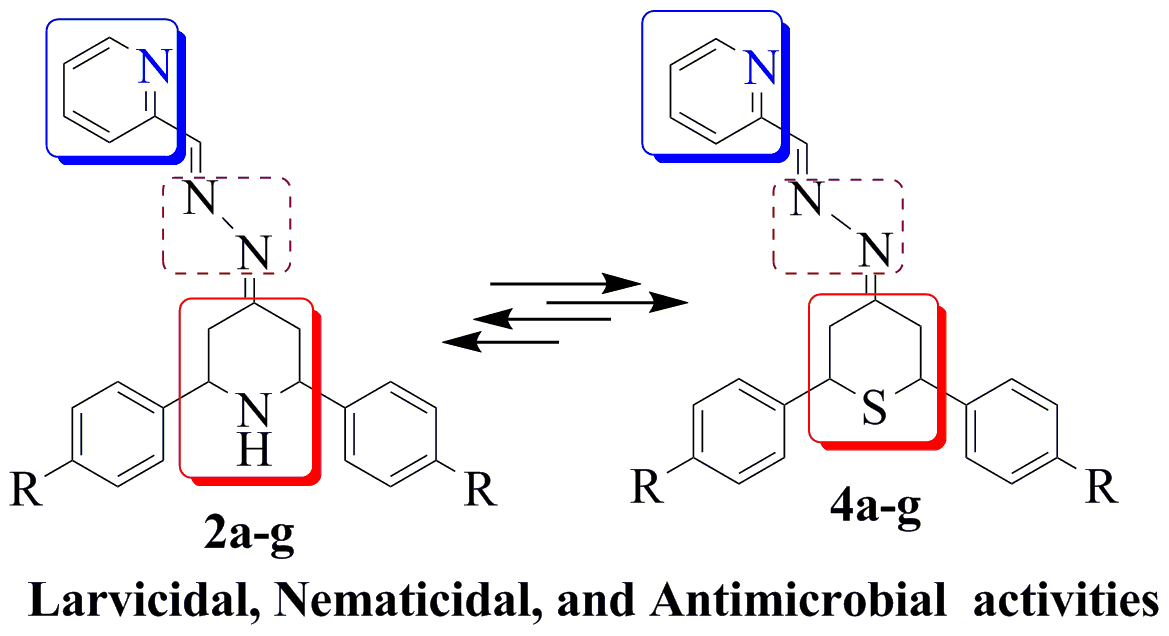 Downloads
License
Authors who publish with this journal agree to the following terms:
Authors retain copyright and grant the journal right of first publication with the work simultaneously licensed under a Creative Commons Attribution License that allows others to share the work with an acknowledgement of the work's authorship and initial publication in this journal.
Authors are able to enter into separate, additional contractual arrangements for the non-exclusive distribution of the journal's published version of the work (e.g., post it to an institutional repository or publish it in a book), with an acknowledgement of its initial publication in this journal.